Integrated Client Journey
Someone experiencing ALICE could be a single parent with a preschooler and a child in school. He recently lost his job and is seeking employment. He wants the best education and opportunity for his two children. ALICE is resilient and resourceful, but he isn't sure where to turn for help or how to navigate through different intake and qualification processes and multiple nonprofit organizations and services.
An integrated client journey allows a client to create their own customized pathway based on their goals and needs. Rather than working separately to address individual needs, programs are orchestrated to make it easy for clients to engage across services as needed, breaking down barriers and helping ensure clients can be successful. These services include financial stability services, supported by physical and behavioral health care, early childhood education, and youth development, all supported by safety net services that help people take care of their basic and immediate needs like food, shelter, clothing, and other critical needs such as refugee assistance, and freedom from violent situations like domestic abuse and human trafficking.
Funded partners provide programs that address clients' varying needs as they move through their journey.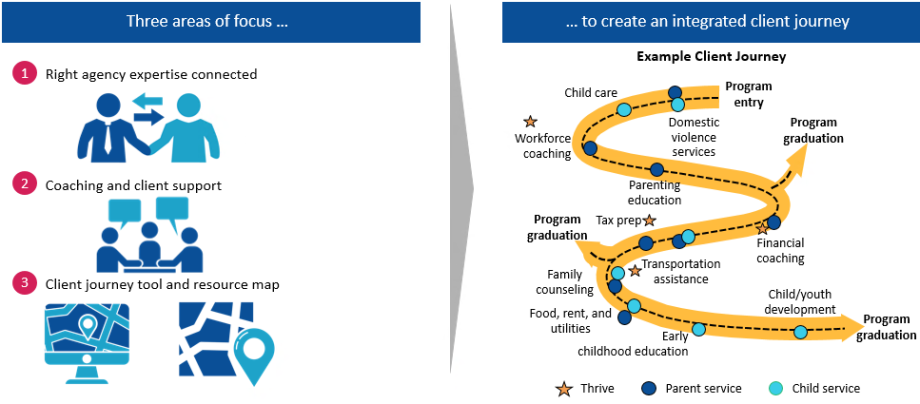 The integrated client journey will operate across 13 priority regions within Fort Bend, Harris, Montgomery, and Waller counties. Use the interactive dashboard to explore the regions including ALICE data, demographics, and zip codes included within each region. For a larger dashboard, or if you have trouble viewing, click here. To download the data from the dashboard, click here.
Navigators
Navigators are coaches and personal guides who will work one-on-one with individuals and families, helping them create their own personalized journey to financial stability and access services along the way.
Navigators use a strengths-based approach to help clients determine and articulate their goals. Then, they work with clients to create a roadmap to achieve their goals that amplifies the client's own unique strengths. Navigators make important connections and referrals to services, and help address obstacles along the way, making sure clients are able to keep moving forward.
After months of training, 20 navigation teams based within 15 United Way funded partner agencies have begun working with small groups of clients at their own agencies in the fall of 2022. In 2023, navigators will begin to serve clients across our region.
To prepare them to best serve individuals and families, navigators are trained on core coaching skills, implicit bias, motivational interviewing, cultural humility, trauma informed care, various navigation tools, data tracking and assessments, how to make referrals, and other key tools.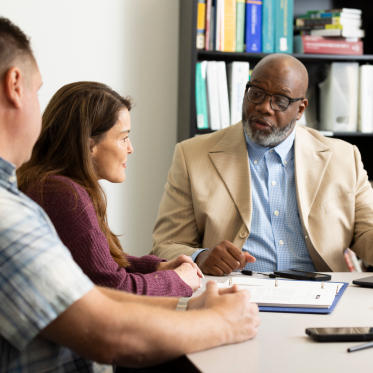 Funded Partners Providing Navigation Services
United Way invests in and partners with the following nonprofit organizations to provide Navigators.
AccessHealth
The Alliance
BakerRipley
Catholic Charities of the Archdiocese of Galveston-Houston
The Council on Recovery
Easter Seals of Greater Houston
Hope Disaster Recovery
Humble Area Assistance Ministries
Memorial Assistance Ministries
The Montrose Center
Northwest Assistance Ministries
The Salvation Army, Greater Houston Command
Target Hunger
Volunteers of America, Texas
Wesley Community Center
Need help?
Just dial 211 for free and confidential help 24 hours a day, 7 days a week, 365 days a year in many languages.