record-breaking backpack drive helps over 800 children
Women's Initiative members helped make this year's United Way Backpack Bash a record-breaking event! Over 800 backpacks went to eight Out-2-Learn out-of-school time programs and seven of our United Way Bright Beginnings centers, including the center at Galena Park, which received backpacks not only for the children in the program, but also for their teen parents. Thank you to all who donated backpacks and supplies for students in our community!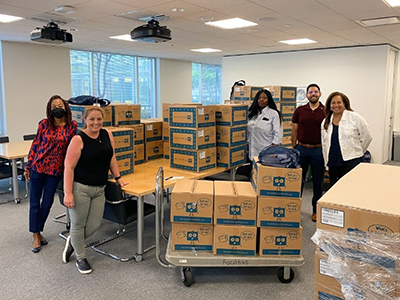 ---
wi adt members explore the folk art market and enjoy weekend in santa fe
In July, 25 WI ADT members traveled to Santa Fe for the International Folk Art Market. We met artisans from around the world who provide economic opportunities for their communities and educated us on their culture. Local WI members Anita Smith and Jan-Claire Phillips hosted us at receptions in their homes where we discussed how United Way is connecting people to possibility and the ways that Women's Initiative members can ensure its success. It was great fun to be back on a personally funded trip after a three-year hiatus and everyone enjoyed renewing old friendships and meeting new friends.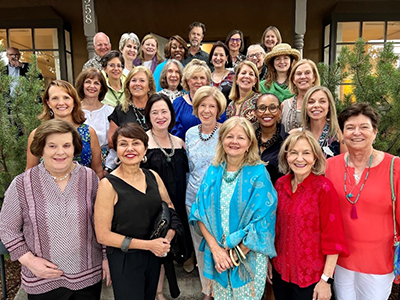 ---
meet wi steering committee leaders decie autin and karen kershner slack
Karen Kershner Slack is Director of Organizational Development for Slack & Co. Contracting, a Houston-based sitework and utilities contractor. Karen joined WI in 2009 and has been an Alexis de Tocqueville member since 2014, and enjoys getting involved with UW's children's education programs like Bright Beginnings.
Reach out to Karen at linkedin.com/in/karen-kershner-817bba.

After a career Globetrotting as Vice President, Central Project Management for Exxon Mobil's Global Projects, Decie Autin now enjoys globetrotting as a recent retiree and just returned from visits to Spain and Hawaii.
Reach out to Decie at linkedin.com/in/decie-autin-99463345.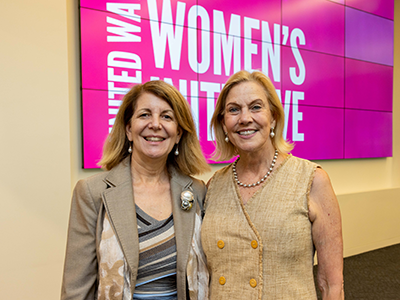 ---
211 dashboard
Explore data from the 211 Texas/United Way HELPLINE. See the top reasons people are reaching out to 211 and how your support helps them get connected with help.
The dashboard is updated Monday through Friday at 10:00 am.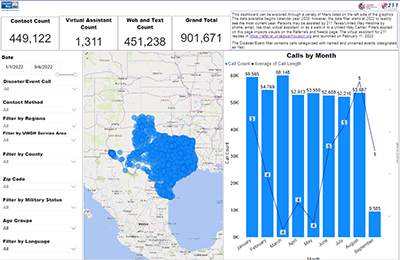 www.unitedwayhouston.org/work/211/211-data-dashboard/
---
upcoming events
Appreciation Luncheon
Tuesday, September 20, 2022
11:30 am - 1:00 pm
Junior League of Houston
1811 Briar Oaks Lane
RSVP

Community Campaign Kickoff
September 21, 2022
6:00 - 8:30 pm
Silver Street
2000 Edwards Street
RSVP
Fall Day of Action
October 1, 2022
8:30 - 11:30 am
United Way Center
50 Waugh Drive
RSVP
Alexis de Tocqueville Society Kickoff Reception
*ADT members and guests are invited. For more information and to RSVP, please contact Debbie Span-Bailey at dbailey@unitedwayhouston.org
October 3, 2022
6:00 - 8:00 pm
McGovern Centennial Gardens
1500 Hermann Drive
Volunteer Opportunity
October 22, 2022
8:00 am - 12:00 pm
Houston Food Bank
535 Portwall Street

Rappel for a Reason
*60 volunteers will go over the edge of the Galleria DoubleTree Hotel to raise money for United Way. More details coming soon!
November 4, 2022
8:00 am - 4:00 pm
Galleria DoubleTree
5353 Westheimer

Wrap & Wine Holiday Event
*Save the date - WI members and guests are invited to participate in a book drive and then wrap those books as holiday presents for students in United Way Bright Beginnings
December 6, 2022
6:00 - 8:00 pm
United Way Center
50 Waugh Drive
---
connect with us
Stay current on events and happenings, connect with fellow members, and learn more about the impact we make together in our Women's Initiative Facebook and LinkedIn groups. Access to these sites is limited to members only. To get your first-time entry, email Isha Baker.
about the women's initiative
Women's Initiative members enjoy engaging networking events, personal and professional development programs, and volunteer opportunities where they learn about community issues and the impact United Way programs make. WI members make personal gifts to United Way of $2,500 or more annually. Our 749 members collectively contributed $5 million in 2021-2022.